MARIANNE MAYFIELD
AND THE JOY OF KNOWING HER
a memoir by Bob Church
Marianne was a sweetheart of a woman, everybody that knew her loved her. She had ideas of her own.
In the seventh grade when it was time to start her musical education, the instrument she wanted was not available. There was a large bass viola available.
Marianne was told that nice girls did not play bass. Marianne being Marianne decided that she wanted to be a bass player.
This must have happened in the city where she was born: Fresno, California.
Later she became a member of a vocal group called the "Three Vee's" that came to Portland on some kind of tour. Marianne liked it here, she put herself through college and became a teacher. For years she sang and played bass until LeRoy Vinnegar told her that he would play the bass and she could sing.
It must have been in the late sixties or early seventies when I first met Marianne at the "Gold Coin" in downtown Portland. She would be working in clubs that I wasn't quite sure of their location. When she began playing there I went to see and hear her. I introduced myself and our friendship started.
She used to come into the "Prima Donna" a lot and sing a couple of songs and just make everybody in the club feel better. Later she worked there. She did the vocals and played bass, Dick Blake played piano and Mel Brown played drums. The trio played great jazz but very few came to see them. Marianne had the ability to make everyone feel better just because she was in the room. She liked to ask people "What are you going to be when you grow up?" and of course a lot of us would tell her that we did not intend to grow up. That is where I took my first photographs of her. One turned out well enough to enlarge.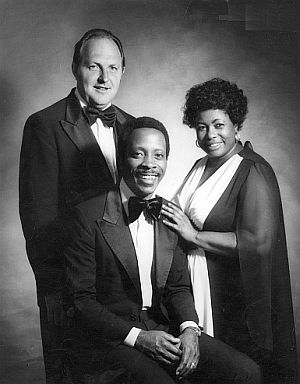 When I learned that Marianne was playing at the "Prima Donna" I started going there. It was located on SW 4th in Portland. Once I started going there I kept going until the place was sold. My days off at that time were Thursdays and Fridays; my nights to go to the Prima Donna were Wednesdays and Thursdays. One of the early trios had Andre Garand playing bass, Mel Brown playing drums and Dick Blake playing piano. Howard Young would play drums one night and piano another night. Harry Gillgam also played piano there. I am having trouble remembering what nights the different musicians played. I know that Marianne, Dick Blake and Mel Brown played there for quite a while. One night Mel Brown was playin the song "Cute" as a drum solo, doing a great job. There were about ten people in the room. There is not any way of knowing but I have always felt that more than half of the great jazz is played with less than fifty people in the room.
The next place I remember Marianne Mayfield working was in Lake Oswego at "D.J's Village Jazz", a club that featured national acts. At the time in 1985, I was just recovering from my stroke so I had some time off including Saturday afternoons. I drove out to Lake Oswego to find this jazz club. I made the error of driving down the main highway and taking the Lake Oswego exit. I drove around for what seemed like hours before I found it. It was just two blocks from highway 43. I had a large photograph of Marianne and left it on the bandstand for her. The bartender Ed said he would tell her about it. Before she got there for the gig that night, the owner Don Mayer came in and decided that he wanted the photograph. Marianne had seen it and wanted it also. The next time I was in there she brought somebody over to where I was sitting. They asked who the photo was supposed to go to. I told them it was meant for Marianne. The next thing I knew they had "lost it" and could not find it. After a few weeks I brought out a second copy for Marianne and gave it to her, but they had "found" the first picture and had it hanging on the wall.
When Marianne moved to the "Parchman Farm" in Portland I started going there. Leroy Vinnegar was on bass and Jof Lee played piano. I think it was Bill Thomas on drums. After many years Marianne left the "Farm", married Raymond Hill and moved to Oahu for a few years. When they returned to the mainland, they made their home in Springfield, Oregon. The last time I saw her perform was at an outdoor event in Tigard, Oregon. She was at the top of her form. Bob Hernandez played his tenor saxophone, Mel Brown played drums, Jof Lee was on piano, and Bernard Purdie sat in on drums for the last number.
For some reason I do not remember who played bass. (editors note: Ed Bennett - bass)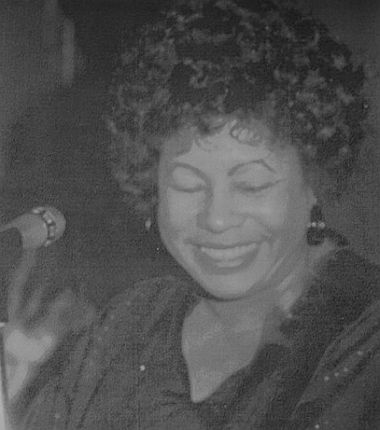 About this same time Marianne was on a panel at Portland State that talked about the history of jazz. She spoke about how the trio had once worked in downtown Portland but were not allowed to stay there overnight. They had to arrange for sleeping accommodations on the "East" side of Portland. I never knew what year she first came to Portland, but I do recall one restaurant on the corner of Broadway and Salmon that had a sign that read: "Colored Trade Neither Wanted Nor Solicited". After the panel discussion was over I had a nice talk with Marianne for a few minutes. It turned out to be the last time I would ever see this beautiful woman.
Last spring Marianne was booked to do a concert in tribute to Carmen McRae at a converted fire station at North Interstate and Killingsworth. My friend Vandi Huston and I arrived to attend the concert and found a notice on the door. The notice said Marianne Mayfiled was ill and could not perform. We returned to my place and called her. She was not home but Vandi talked with her husband Ray; he told her that Marianne had cancer. We wanted to go to Springfield to see her, so Vandi cleared her schedule for Saturday and Sunday October 23rd and 24th. When Vandi returned from her lunch break on Thursday, October 21st and checked her e-mail, she found a message from Ray saying Marianne had died at nine-twenty the night before.
Over the years Marianne was fond of saying "I'm ready to go whenever God wants me!"
Well, He is in very good company now...